A Scranton Pedestrian Accident Lawyer Can Help You If You Were Injured
A Scranton pedestrian accident lawyer at Munley Law Personal Injury Attorneys can help you understand your legal options for getting the money you need to cover your accident-related expenses and losses.
$32 Million Wrongful Death
$26 Million Truck Accident
$17.5 Million Car Accident
$12 Million Product Liability
$9 Million Truck Accident
$8 Million Truck Accident
$8 Million Truck Accident
$7.5 Million Auto Accident
$6.9 Million Garbage Truck Accident
$6.5 Million Traumatic Brain Injury
$5 Million Medical Malpractice
$5 Million Bus Accidents
With over six decades of experience, our Scranton car accident lawyers can handle the complex issues of your claim as you concentrate on healing from your accident. We offer no-cost consultations and handle these cases on a contingency basis. This means you do not pay us anything until we recover compensation for your accident. Call us today to schedule a free case review with a member of our Scranton team.
How Frequent Are Pedestrian Accidents in Scranton?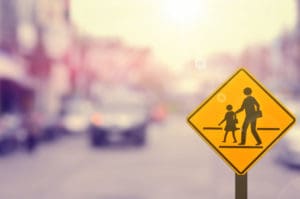 According to The Times-Tribune in Scranton, data for the period of 2012 through 2015 shows an average of about 54 pedestrian accidents per year. As noted by the Times-Tribune, that means Scranton has roughly one pedestrian accident per week on average over the course of the year. Lackawanna County averages approximately 4 pedestrian fatalities each year since 2016.
Scranton's city council has worked hard to address the topic of pedestrian accidents. The article cited above stated that the city spent $5.6 million on upgraded signal systems. Nevertheless, pedestrians continue to suffer injuries in Scranton.
What Are the Common Causes of Scranton Pedestrian Accidents?
While each case is different, some of the most common forms of driver negligence leading to pedestrian accidents are:
Speeding, failure to yield, and other common violations
Carelessness or failure to pay reasonable attention to surroundings
Failure to use caution in an area where pedestrians are commonly found
Distracted driving, such as changing the radio station, eating, talking to passengers, texting, or talking on the phone
Driving drunk or under the influence of drugs
If you enlist the help of our Scranton pedestrian accident lawyers with your case, we will gather evidence, call in accident reconstruction experts, and analyze all the facts of your case to understand exactly how your accident occurred. If we uncover one of these common causes or another cause tied to the negligence of the at-fault driver, we will pursue compensation on your behalf.
What Damages are Available in a Pedestrian Accident Injury Case?
The compensation available in a pedestrian accident injury claim varies based on the severity of your injuries and the damages you suffered. Some of the most common types of damages we collect for our clients include:
Medical accident treatment costs
Therapy and rehabilitation
Ongoing care costs
Lost wages
Lost future income
Repair or replacement of personal property
Out-of-pocket costs
Non-economic damages (e.g., pain and suffering, mental anguish, emotional damages, etc.)
Scranton Accident Lawyers Who Care
If your loved one died in the accident, you may be entitled to compensation for funeral and burial damages, emotional damages (e.g., loss of consortium, loss of guidance), and loss of services (e.g., childcare).
While some people choose to try to file accident claims on their own, we encourage you to run any offers from the insurance company by us before you sign. They may offer you a payout, but we often find that we can uncover potential damages they did not include in your accident settlement. We can ensure you do not leave thousands of dollars unclaimed when you negotiate a fair settlement with the insurance company.
How Does a Scranton Pedestrian Accident Attorney Prove Fault?
Recovering accident damages in a lawsuit will require your attorney to establish fault and prove negligence. The most obvious forms of driver fault might involve running a red light or losing control of the vehicle. However, in some cases, multiple parties could share fault in the accident.
For example, in a case where one driver broadsides another car causing the second driver to lose control and strike a pedestrian, most of the fault might lie with the first driver. But what if it was found that the second driver was intoxicated? Perhaps it could be shown that the second driver's intoxication also played a role in causing the accident and injury.
The Duty of Care
Each and every case develops differently. However, regardless of the details of the case, to prove negligence, our Scranton car accident lawyers will need to show four different elements:
The driver had an obligation to follow certain rules of the road, act reasonably, and follow traffic laws.
The driver failed to uphold this obligation, breaking laws or acting carelessly.
This failure caused your accident and your injuries.
You suffered injuries as well as financial damages.
If we can collect evidence to prove the elements of negligence, we can use it to hold the driver financially accountable for your accident damages. This is possible through an insurance claim with the at-fault driver's auto insurance liability policy or a personal injury lawsuit.
A Scranton Law Firm Who Fights In Your Corner
We will look into your case to determine the best way to recover the compensation you need; in most cases, we begin by filing a claim with the at-fault driver's liability insurance provider. Often, we can negotiate a fair settlement with the insurer without having to take your case to court.
How Can Munley Law Personal Injury Attorneys Help Your Case?
It is important to note, though, that investigating this type of accident and proving a case based on driver negligence is complex. We investigate the cause of every pedestrian accident we handle and help you understand how the law will affect your case.
We will fight for the full value you deserve based on the details we uncover in your case. This includes managing all communication with the insurance company, protecting your right to compensation, and navigating the process on your behalf so you can focus solely on your physical recovery from your accident injuries.
We will also identify and collect all documentation of your damages. This includes all receipts, bills, and other paperwork. This will allow us to bolster our demand letter to the insurance company with information about the full value of your losses.
Frequently Asked Questions About Pedestrian Accidents
Q: Can a Pedestrian Be at Fault for the Accident?
Although many believe that the pedestrian always has the right of way, there are times a pedestrian may be held partially responsible for the accident. For example, if a pedestrian darts out into the path of an oncoming vehicle and the driver has no time to stop, the pedestrian may be considered at fault for the accident. That's why it's important to speak with a Scranton injury attorney to learn your legal options following an accident.
Q: What Should I Do Following a Pedestrian Accident?
If you get into an accident, your first step is to stay calm and assess your injuries. If your injuries do not prevent you from moving, try to move out of the street. Immediately call 911 following the accident. Remember to get the driver's information and any witness' contact information while waiting for help to arrive.
Try to gather evidence at the scene. Take photos and videos of the accident scene, where the driver hit you, any signs on the road, and your injuries.
Next is seeking medical attention, even if you don't feel hurt at the time of the accident. Many times, injuries won't show up until hours, sometimes days after a car accident. The sooner you learn what injuries you have, the quicker you have a chance to heal.
And finally, contact a Scranton pedestrian accident lawyer at Munley Law Personal Injury Attorneys to get the compensation you deserve.
Q: Who Pays the Medical Bills Following a Pedestrian Accident?
According to Pennsylvania law, if you own car insurance and are hit by a motor vehicle, you can apply for a Personal Injury Protection claim, also known as a PIP claim. This will cover your medical expenses, lost wages, and, if the pedestrian dies, funeral expenses. However, if you do not own car insurance and are not covered under someone else's policy, the at-fault vehicle driver will be responsible for your bills.
Q: Can Other Parties Be Held Responsible for a Pedestrian Accident in Scranton?
There may be times when other parties are responsible for your accident. For example, if the crosswalk was poorly designed and Lackawanna County had prior knowledge of pedestrian accidents at this location, it may be held responsible for the accident as well.
Reach Out to a Pedestrian Accident Lawyer in Scranton About Your Case
A Scranton pedestrian accident lawyer at Munley Law Personal Injury Attorneys can help you understand the strength of your case against the driver who caused your accident injuries and other damages. If we believe there is enough evidence to show he acted negligently and to hold him liable in your pedestrian accident, we will handle this process for you, fighting to recover the compensation you deserve.
Call us today to get started with a free consultation.