Got into an accident while riding in an Uber in Scranton? We're here to help.
Uber is considered a safe and reliable mode of transportation in Scranton. Yet the company considers itself a technology provider, not a transportation company. Though the company maintains a $1 million third-party liability policy for those involved in an accident, Uber limits its responsibility for accident coverage. So, if you are in a car accident involving an Uber driver, you may face challenges getting the compensation you deserve.
$32 Million Wrongful Death
$26 Million Truck Accident
$17.5 Million Car Accident
$12 Million Product Liability
$9 Million Truck Accident
$8 Million Truck Accident
$8 Million Truck Accident
$7.5 Million Auto Accident
$6.9 Million Garbage Truck Accident
$6.5 Million Traumatic Brain Injury
$5 Million Medical Malpractice
$5 Million Bus Accidents
Since Uber drivers use their personal vehicles and are considered independent contractors, Uber often expects drivers to be liable for any injuries or damages. But many Uber drivers don't carry extra insurance to cover their car's use for the business of transporting passengers. Many personal auto insurance policies don't even permit drivers to use their vehicles for Uber or other ridesharing services.
If you are involved in an Uber accident, and Uber or the driver's insurer may try to deny your claim, you may be paying your expenses out of pocket.  If this is the case, a Scranton Uber accident lawyer can step in to determine the "at fault" party and help you collect damages in these situations.
Your case may be settled without courtroom litigation. But if a sufficient agreement is not forthcoming, a Scranton car accident lawyer from Munley Law Personal Injury Attorneys can competently take your case to court. For over 60 years, our injury attorneys have been helping ridesharing accident victims get the compensation they deserve throughout Lackawanna County. We understand how difficult these cases tend to be.  And that's why we won't settle for an offer that's less than the amount you deserve.
If you were involved in an Uber accident in Scranton, it's in your best interest to contact our Scranton personal injury lawyer for a free, no-obligation consultation as soon as possible.
Who Can Be Held At Fault For an Uber Accident in Scranton?
Accidents involving Uber drivers create some confusing scenarios. It often takes a talented Pennsylvania lawyer to define the details. Unlike an accident involving a taxi or bus, where the company may be held responsible for your accident, the financially responsible party and the applicable insurer may not always be obvious.
Often, neither party will step up and take responsibility. In some cases, neither Uber nor the driver's insurance willingly offers payment, even if the Uber driver is clearly at fault.
Uber's drivers could be considered negligent if they fail to obey the company's rules and all traffic laws. Negligence can be used to establish that a driver was at fault for an accident in which negligence served as a contributing factor.
Once you hire our team of rideshare accident lawyers, we will get the evidence needed to prove who is responsible for the crash. In some of these cases, Uber may be held responsible for hiring a driver who is not fit to drive for the service. In other cases, the fault may lie with the manufacturer of the vehicle if there was a defect involved. This is why it's important to get a team of knowledgeable personal injury lawyers to help you with your claim.
How Does Uber's Insurance Policy Work in a Car Accident?
On duty or off duty – does it matter? Yes, it's vital. Whether an Uber driver is on duty or off duty determines whose insurance company is responsible.  If an Uber driver causes an accident while on duty, Uber's liability insurance should cover the damages. On duty could mean the following:
The driver is logged into the app and is waiting for a ride request
The driver is on route to pick up riders
The driver is transporting the passengers to their destination
In some circumstances, you might be eligible to receive compensation from both Uber's insurance as well as the driver's personal insurer. In other cases, you may find it difficult to collect benefits from either party's insurance plan.
If an Uber driver causes an accident while off duty, meaning the driver has not accepted a new ride request or the app is off, you must seek compensation through the driver's personal auto insurance policy rather than filing a claim through Uber.
You are eligible to file an insurance claim or file a personal injury lawsuit against the ridesharing company if you are injured by an Uber driver's negligent actions. This rule applies no matter whether you were injured while you are in the position of:
A passenger in an Uber driver's vehicle that was involved in an accident
A pedestrian hit by an on-duty Uber driver
A fellow motorist whose vehicle is hit by an on-duty Uber driver
Many types of confusing accident scenarios can occur involving Uber. Each is evaluated differently. Having a knowledgeable Scranton Uber accident lawyer on your side to determine who is at fault and make certain you receive payment, is important.
Do Uber Drivers Contribute to an Increasing Number of Accidents?
What are the chances of being in an accident involving an Uber driver? Pretty high it seems.
Uber's drivers are involved in a significant number of crashes. The level of risk is greater for an Uber contractor than that of the average driver, due to the nature of the service. According to a recent study from the University of Chicago and Rice University, the increase in Uber drivers contributed to a sharp rise in US traffic deaths. According to the study, ridesharing services have increased traffic deaths by 2% to 3% in the United States since 2011. This equates to approximately 1,100 fatal accidents each year.
Why are Uber's drivers at greater risk of being involved in an accident than the rest of us? Uber's drivers often suffer from fatigue and distracted driving – prime causes of today's traffic accidents – at a higher rate than other commuters. The nature of the job makes these hazards difficult to avoid.
Since driving for Uber is often a side gig, an activity undertaken to earn extra cash, drivers coming on duty after a day in a factory, retail shop, fast food restaurant, or office may suffer from extreme fatigue.
Additionally, Uber operates through a phone app that must be visually monitored. Drivers must take their eyes off the road to manage the app and their itineraries. Uber's contractors must consider whether they can handle newly posted pickup options and if so, accept them, within just 15 seconds. Uber drivers also frequently check their phones for directions and use them for time tracking.
The combination of fatigue and the requirements of interacting with an app that creates driver distraction creates situations conducive to accidents. It's no wonder traffic deaths seem to have increased since Uber was launched.
What is a Commercial Liability Insurance Policy?
As mentioned earlier, many drivers lack insurance that covers liability for accidents that happen when using their vehicle as an independent contractor for Uber.
That type of insurance might be too pricey for drivers who only offer Uber services occasionally. And, as mentioned, some insurance companies refuse to provide liability coverage for personal vehicles used for business purposes. These facts and the reality that Uber liability insurance doesn't always come through for Uber accident victims are cause for concern.
The risk of summoning an Uber driver is worth the convenience for many. Just remember to contact a Scranton Uber accident lawyer to protect your rights if you are involved in an Uber-related accident.
Frequently Asked Questions for Scranton Uber Accident Lawyers
Q: What Are the Requirements to Drive for Uber in Scranton?
A: To help prevent accidents in Scranton and other cities, Uber has put in place some minimal requirements for drivers applying to become independent contractors.
Prospective Uber drivers:
Must present a valid driver's license.
Must have been driving at least a year after obtaining their license. (Three years are required if the driver is less than 23 years old.)
Must meet the age requirement required to drive for Uber in the city where they offer services.
Must provide proof of insurance, vehicle registration, and proof of valid vehicle inspection.
Must complete safety screening and a driving history background check.
Vehicles operated by Uber drivers:
Are required to be four-door models.
Must be in good condition.
Cannot be more than 10-15 years old.
Q: What Should I do Following an Accident in Pennsylvania Involving Uber?
A: Obtain a medical assessment, if you are even slightly injured. Then, as soon as possible, report the accident to Uber through their app. Always report what happened, whether you were a passenger, pedestrian, or driving a vehicle hit by an Uber driver's vehicle.
If it seems like a good idea, contact your insurance company. But do not speak with a representative of Uber's or the driver's insurance carrier without a Scranton Uber accident attorney present.
Don't hesitate to contact a Scranton Uber accident lawyer for a free consultation. We work on a contingency fee, meaning that you do not owe us a fee until we win your case.
Q: What Expenses May be Included in a Scranton Uber Accident Lawsuit?
A: Damages for personal injury lawsuits commonly include:
Medical bills
Lost wages
Pain and suffering
And other related losses.
Q: How can I Prove an Accident Was Caused by an Uber Driver in Scranton?
A: While at the accident scene, try to collect as much information as you can about the accident. This means getting photos and contact information from any witnesses involved. You will also want to get a copy of the police report to get an official record of what occurred before and after the accident.
Finally, give Munley Law Personal Injury Attorneys a call. We can obtain the evidence needed to prove fault and get you compensation for your injuries.
Q: What if my Driver Admits Fault but the Insurance Company Refuses to Pay?
A: In most cases, your injuries will probably be covered by the Uber company's insurance policy. But even if your Uber driver is at fault and was on duty at the time of the accident, Uber or the company's insurer may fight the claim.
That's why it's important to have an experienced Scranton Uber accident lawyer on your side, to stand up for your rights. Munley Law Personal Injury Attorneys offers more than 60 years of experience in obtaining the maximum compensation possible for injured victims in all types of car accidents and personal injury claims.
Q: What is the Statute of Limitations for Filing an Uber Accident Lawsuit in Scranton?
The statute of limitations for a civil personal injury case in Pennsylvania is two years.
A: That means you have two years from the date your accident occurred to file a claim. You will give up your right to sue the negligent party for damages if you postpone filing past the two-year deadline. Contacting a Scranton Uber accident lawyer as soon as possible following the accident ensures the details will be thoroughly investigated, and a lawsuit filed, if needed, before the statute of limitations passes.
Consult an Uber Accident Attorney Before Signing any Document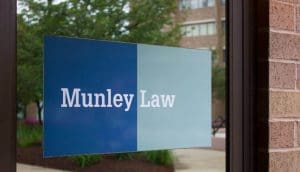 We at Munley Law Personal Injury Attorneys suggest you proceed with caution if you are injured or suffer loss in a Scranton Uber accident. Some insurance adjusters may use specially planned tactics in an attempt to save money by finding a way to deny your claim.
These tactics might include asking you to sign a liability waiver while offering you a quick but insufficient settlement. They might question the severity of your injuries and many adjusters try to find a way to blame the victim in some way, for causing the accident.
Don't fall for these attempts to reduce settlement amounts. Let a Scranton Uber accident lawyer determine the status of your case as soon as possible. It's easy to reach us for a free consultation by phone, email, or online chat.  Don't hesitate. We will be happy to help.