Can I Sue Someone Personally After a Truck Accident?
After you've been in a trucking accident, you may be faced with medical debt, property damage, ongoing pain and suffering, and even possible funeral expenses. One way to recoup your expenses is through a truck accident lawsuit. Many people wonder: is it possible to sue someone personally after a truck accident?
The truck accident lawyers at Munley Law Personal Injury Attorneys can answer this question, and help you determine the best way to get the compensation you need to rebuild your life. Contact us today for a free consultation with one of the nation's top truck accident attorneys. 
Because of the immense weight and size of tractor trailers and other large trucks, truck accidents often result in serious injuries and damages. This is especially true if the accident involves a crash between a large truck and a much smaller passenger vehicle.  According to the U.S. Department of Transportation, a total of 4,119 people died in large truck crashes in 2019. This number is 31 percent higher than it was just 10 years ago. Although there are many reasons why the number of truck accident fatalities is on the rise, a leading factor is negligence. 
Who Pays for Truck Accident Injuries?
The answer to who is responsible for paying for injuries sustained in a truck accident partially depends on what state you live in. Pennsylvania, for example, is a no-fault insurance state. This means that your own insurance will cover your medical costs (according to your policy and selected coverages) regardless of who was at fault for the crash. However, in a truck crash, injuries are so severe that it is unlikely your own policy will be sufficient to cover all of your damages. Then, you can pursue compensation from the at-fault driver's insurance company and even their employer. 
Having an experienced truck accident attorney on your side will be crucial to identifying all appropriate sources of recovery for you. It is important to identify all responsible parties before filing a lawsuit or accepting a settlement offer, because once you have received a settlement you cannot sue for additional compensation. 
Possible defendants in a truck accident case
The Truck Driver
In the case of a truck crash, several parties may be held responsible but first and foremost is the truck driver. A truck accident lawyer will investigate your accident to determine if the truck driver was negligent or even violating federal safety regulations.  Reckless and negligent driving behaviors might include speeding, changing lanes without due caution, driving while drowsy, driving while distracted by a phone or other device or activity, or driving under the influence of drugs or alcohol. 
The Trucking Company or Broker
The trucking company may also be held liable for an accident involving one of their drivers. Transportation companies can be held liable for the negligent actions of their employees. A truck accident lawyer at Munley Law Personal Injury Attorneys can obtain and review the trucking company's records to identify negligent hiring and training practices, or failures to implement adequate safety measures. Likewise, if a broker or truck company overloaded the cargo in the trailer and the truck rolled over as a result, they may be held accountable. 
The Truck Manufacturer or Maintenance
Sometimes, a truck accident can be attributed to mechanical failure, such as shoddy brakes or engine issues. In this case, the manufacturer of the vehicle could be held liable for the accident. Or, if the truck had not been properly inspected and maintained and crashed as a result, the company responsible for the truck's maintenance could be responsible. 
Suing an Individual for a Truck Accident
If you were the victim of a truck accident, you're probably facing a host of unexpected costs, on top of the trauma you have suffered. You should not have to bear these costs that you incurred through no fault of your own. But who should be held responsible? It is possible to sue an individual for a truck accident, though this is generally not the best course of action. Let us explain why…
You can sue the truck driver himself. But typically, it will be his insurance company who bears responsibility for issuing a payout. The trucker (and most individuals) do not possess the assets necessary to make you whole again. This is why your truck accident lawyer will look to other responsible parties who share the fault for your accident. Most often, this includes the transportation company that employed the driver, but can also include third-party brokers, manufacturers, and maintenance companies. 
How Can I Prove Liability in a Truck Accident?
In order to establish liability, an experienced truck accident lawyer will need to investigate the accident and gather the proof needed to hold the right party at fault for the full extent of the damage they caused. This includes:
Investigating the scene of the accident

Speaking with witnesses 

Taking and examining photographs and video

Getting the police report

Reviewing the victim's medical records with an expert

Obtaining the trucker's cell phone and phone records

Examining the truck driver's logbook and the truck's black box data recorder 

Obtaining trucking company records on vehicle inspection, driver history, accident reporting, and more
Once this evidence is collected, a clear picture will emerge as to who is responsible for the accident. Unlike a car accident, where it may be either one or both drivers, there could be several parties responsible for the accident. 
What Are My Next Steps If I Want to File a Truck Accident Lawsuit?
The first step in pursuing any kind of legal action or claim is to consult an experienced truck accident lawyer. In this initial meeting, you will have the opportunity to tell your story and ask questions about how to proceed. A truck accident attorney will consider the details of your situation, review any documentation available, answer your questions, and advise you about what to do next. This session is free and confidential. 
If you choose to retain legal representation and pursue compensation, your attorneys will get to work right away to issue necessary court orders and preserve evidence. After a period of investigation and discovery, the law firm will draft a complaint and file a lawsuit, informing the defendants that they are being sued for damages. It is important that your lawyers take great care during this process, and wait until the full extent of your injuries have become clear. 
Your attorneys will deal with the insurance companies on your behalf to negotiate an appropriate settlement. Most personal injury claims, including truck accident cases, settle out of court. However, if no acceptable offer is made, we will be fully prepared to bring your case to trial in front of a jury. We invest all of the necessary resources – top industry experts, state of the art technology, and more – to build your case, and if you don't win, you owe us nothing. 
It is important to take the first step as soon as possible. This is true for two reasons. First, truck accidents have a strict statute of limitations. In most states including Pennsylvania, the statute of limitations is two years from the date of the accident. Beyond this date, you cannot file a lawsuit. Two years may sound like a lot of time, but truck accident investigation and discovery is a highly technical, specialized process that can take many months. The other reason it is important to act quickly is because truck crash evidence can be lost or destroyed in the days following a wreck. The sooner you contact a lawyer, the sooner we can mobilize to preserve electronic data, physical evidence, and the crash scene itself. You risk nothing by contacting an attorney, even if you're unsure whether you have a case. 
What to Expect From a Truck Accident Settlement
Depending on the severity of your injuries and the strength of your claim, you will receive compensation that will cover your damages, including but not limited to:
Medical expenses such as hospital stays, rehabilitation, imaging, surgeries, doctor visits, lab testing, and other healthcare costs you may be facing in the future as a result of your accident. 

Lost income for the time you were unable to work. This also includes any future wage losses and lost earning power you may experience due to your injuries. 

Funeral expenses if you had lost a loved one in the accident.
This is known as economic damages. You may also receive non-economic damages which are financial compensation for injuries that affected your quality of life. This could include:
Pain and suffering, which stands for the physical discomfort and emotional distress you went through as a result of the accident.

Mental anguish, which can impact your quality of life, such as grief, worry, and anxiety.

Loss of consortium, such as the loss of companionship.
In rare cases, you may also receive punitive damages. This is financial compensation that's meant to punish the responsible party or parties for their negligent behavior. This type of compensation can be difficult to prove and an act of gross negligence or malice will need to be proven. The exact amount of your compensation will depend on the extent of your injuries, the available insurance coverage, and other factors. 
No-Fault vs. Fault States: What is the Difference?
Insurance rules vary by state. In a no-fault insurance state, such as Pennsylvania, your insurance company will pay for your injuries regardless of who is at fault. However, if the damages do exceed the maximum amount allowed by your policy, you may be able to seek compensation from the at-fault driver. If, for example, you sustained a traumatic brain injury or required multiple surgeries, you will need to pursue compensation from the at-fault party as well. 
For "fault: states, such as Ohio and Connecticut, the insurance company determines who was responsible for the accident and will then pay for the damage accordingly. So, if you were injured by another driver in a fault state, you would need to seek compensation from the at-fault driver for your medical bills and other damages. 
If you're confused with what your state insurance laws are, it's always best to consult with an experienced truck accident attorney to learn your legal options. 
How a Truck Accident Attorney at Munley Law Personal Injury Attorneys Can Help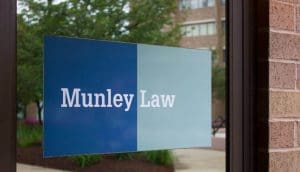 When it comes to suing another party after a truck accident, you need to hire a skilled truck accident lawyer who understands truck accident litigation and can help you get the compensation that you deserve. Trucking companies have aggressive defense firms on their side to minimize your claim. You need someone on your side with the experience, skills, and resources to beat them.
 At Munley Law Personal Injury Attorneys, our trucking accident lawyers have handled trucking claims for over 60 years. We have won millions of dollars in settlements and verdicts for our accident clients and have been recognized by our peers as the leaders in truck accident litigation. Our lawyers have been board-certified in trucking law by the National Board of Trial Advocacy, and have been named to the Trucking Lawyers Top Ten by the National Trial Lawyers. 
If you or a loved one was involved in a truck crash, don't wait a single minute. Contact our offices today for a free consultation and find out what legal options are available to you. We have offices in Scranton, Wilkes-Barre, Philadelphia, Pittsburgh, Allentown, Hazleton, Stroudsburg, and Carbondale.
Share this post: