Can I Sue Uber for Emotional Distress After an Accident?
Picture this: It's Saturday night and you are leaving your favorite local restaurant. You plan to Uber back home after meeting up with friends. You book a car, and within no time, your Uber is waiting for you. All seems well until your Uber driver starts to exhibit signs of reckless driving. He's speeding, being aggressive toward other drivers, and leaving you feeling uneasy. Then it happens, you're in a car accident. Not only do you have physical injuries, but emotional trauma as well.
With more Americans opting for rideshare transportation, it's no wonder that we're seeing services like Uber and Lyft accounting for a percentage of total traffic accidents and fatalities. In a 2018 study by the University of Chicago and Rice University, it was found that rideshare services such as Uber and Lyft actually make up a two to three percent increase in traffic fatalities since 2011. So this begs the question — when Uber drivers crash, or if I'm in an accident in an Uber, can I sue for emotional distress?
The Uber accident attorneys of Munley Law Personal Injury Attorneys can help.
When Can You Sue For Emotional Distress?
Under the law, in order to sue for negligent infliction of emotional distress, at least one of the following elements needs to be present.
There was the existence of a contractual or fiduciary duty
The victim suffered a physical impact as a result of the breach of duty
The victim was in a "zone of danger" and at risk of immediate physical injury
The victim witnessed the injury of someone else as a bystander
However, other forms of emotional distress also exist. These include:
Intentional infliction of emotional harm
Pain and suffering
Loss of consortium
In the case of being in a car accident while in an Uber, you would most likely be sued for emotional distress, specifically for pain and suffering from the injury. But still, it is possible to sue for negligent infliction of emotional distress only if the Uber driver was in service when the accident occurred. This is because when you paid to utilize the rideshare service, there was a contract in place that you expected to make it to your destination without harm.
However, know that these cases are hard to prove, which means you need a trusted car accident lawyer who can guide you through the car accident claim process and prove emotional distress.
How Does Uber Handle Car Accidents?
According to Uber, there are a few steps Uber drivers must take if they are involved in a rideshare accident.
Ensure everyone involved is safe.
Contact the police and paramedics if needed.
Report the crash with Uber.
From there, Uber will reach out to all involved parties (other drivers and riders) to collect any other needed information.
Further, Uber claims that "All rides on Uber are insured. Our claims support team will guide you through the claims process and crash reporting to the insurance coverage provider in your state. There is no need to report to your personal insurance company."
A similar process is in place for riders and other third parties.
Can I Sue Uber if I Was a Passenger and the Driver Crashes?
Yes, if you are an Uber passenger and are involved in a car accident, you can sue Uber for your injuries as well as emotional distress.
However, it does not mean Uber will be the only one responsible for your losses.
How Fault Will Determine Who Pays for Pain and Suffering
Regardless of who is at fault, Uber carries first-party benefit insurance that covers the Uber driver and the passenger's medical bills up to a certain amount. However, if the Uber driver is not at fault for the accident, the passengers may also be able to collect from the at-fault driver for serious injuries.
What Can I Collect in a Rideshare Accident Claim?
If you are in an accident while a passenger of an Uber, there are two types of compensation you may be able to recover following an accident: economic and non-economic damages.
Economic damages are monetary losses that you have incurred following an accident. This includes:
Medical bills
Property damage
Loss of wages
Diminished earning potential.
Non-economic damages are non-monetary losses and are more subjective. These include:
Pain and suffering
Loss of enjoyment
Loss of consortium
Mental anguish
Emotional distress
Know that the other driver's insurance, Uber, and your own insurance will be fighting to figure out who needs to pay for your losses. A trusted car accident attorney can help you through the process to ensure your claim ends up in the right hands and you get the compensation you deserve.
What Should I Do As a Passenger After a Car Accident While in an Uber?
While Uber lays out the rules an Uber driver must follow after an accident, you as a passenger need to be incredibly diligent in reporting the accident to better preserve your case. Following an Uber accident as a passenger, you should:
Call the police to report the accident.
Seek medical treatment. If immediate treatment isn't necessary, be sure to see a doctor in the days following as some injuries take hours or days to emerge.
Get the contact information of your Uber driver and other involved drivers.
Collect the rideshare insurance information and the driver's personal insurance policy information.
Stay on the scene until police arrive to give a statement that you were a passenger at the time of the accident.
Collect any evidence you can.
Get witness statements if available.
Know that Uber is going to want to settle this claim for as little as possible. However, just like any other car accident, you have rights. A rideshare accident attorney from Munley Law Personal Injury Attorneys can help you navigate this legal process and get you a settlement or verdict that will cover your immediate and future medical expenses.
Remember, you do not have to accept the first settlement that is offered to you. Instead, meet with an attorney who can help you calculate your total losses and any other future damages related to the accident.
Involved in a car accident as an Uber passenger and want to collect for emotional distress? Call Munley Law Personal Injury Attorneys.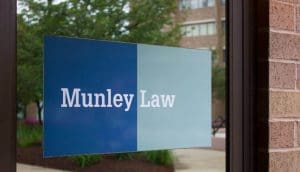 When you booked an Uber to pick you up from a night out, you expected to make it to your final destination safely. However, when your Uber driver ran a red light and the vehicle was totaled in the impact, you also faced physical injury and emotional distress.
Know that you do not have to settle for a lesser amount when you have already suffered so greatly. The rideshare accident lawyers at Munley Law Personal Injury Attorneys have been representing car accident victims, including those who were passengers in a rideshare program like Uber, for years. We want to help you, too.
At Munley Law Personal Injury Attorneys, we know that being in an accident can leave you with financial strain. That's why we work on a contingency basis. This means we do not receive a fee from you until we reach a settlement or verdict in your case. If we are unable to reach a successful conclusion for your claim, you do not owe us anything. Meaning– you have nothing to lose.
If you are still unsure whether or not you can sue for emotional distress if you were involved in an Uber accident, get in touch now. For a no-obligation, free consultation, contact the rideshare attorneys at Munley Law today or by contacting us online.
Share this post: