What to Do After Failure To Lead Accidents
Car accidents are more likely to happen when drivers do not slow down enough or yield the right of way. They happen most often at intersections while merging two lanes together. Motor vehicle accidents can also occur during heavy traffic. The failure-to-yield accident typically occurs because people fail to pay attention, sometimes because of anger or frustration when they are stuck in traffic.
If you or a loved one were injured in a failure-to-yield car accident, it is important to choose a lawyer you can trust. The lawyers at Munley Law Personal Injury Attorneys have been named to the Best Lawyers in America, Pennsylvania Super Lawyers, and other notable lists.
For over 60 years, the Scranton car accident lawyers at Munley Law Personal Injury Attorneys have been helping injured victims fight insurance companies. We know that fighting alone is an uphill battle. You deserve a champion by your side who will help you get financial compensation for your economic and non-economic damages.
We are here 24/7. Our law firm is dedicated to making sure your car accident case is handled as quickly and positively as possible. Call us today for your free consultation.
What Are Common Car Accident Injuries?
There is a wide range of injuries that can result from motor vehicle accidents. The most common types of injuries in car crashes include:
Broken bones – this includes both fractures (broken)and luxation (loosened)
Internal trauma – this includes damage to internal organs
Head injuries, including traumatic brain injuries
Neck and spine injury
Whiplash injuries
Soft-tissue injuries to muscles, tendons, or ligaments
Bruises
Cuts and lacerations
Even if you do not seem severely injured initially, some injuries take time to show up. Car accident victims should almost always seek medical attention after auto accidents.
What Are Common Causes of Car Accidents?
According to the National Highway Traffic Safety Administration, there are more than 35,000 fatal crashes and hundreds of thousands of injuries annually caused by motor vehicle accidents. The most common cause is driver error.
Driver error causes auto accidents most frequently for these reasons:
1. Speeding and aggressive driving.
Driving too fast and in an aggressive way is one of the most common causes of car crashes. When someone is speeding or driving aggressively, they are being a negligent driver. This kind of negligent driving can include improper lane changes, driving too close to other cars, and other reckless driving.
2. Improper reaction to poor weather conditions.
Driving during bad weather can make it harder to drive safely. Some drivers do not slow down when it is raining, snowing, or icy. When they slide in these slippery conditions and their car hits other vehicles, it can result in a serious car accident because the impact at higher speeds is much greater than at lower speeds.
3. Distracted driving.
The number one thing that causes car accidents in the U.S. is when people are distracted driving. This means the driver is not paying attention to the road ahead of them or the traffic around them. This can have serious consequences. In fact, there were over 3,000 fatal crashes in 2019 because people were driving while distracted.
There are three types of distraction: visual distraction (looking at other things), manual distraction (such as texting or fiddling with the radio), and mental distraction (when you start thinking about something else). All kinds of distractions can cause an auto accident.
4. Driving while drowsy.
If a person drives when they are tired, then their driving skills and judgment can be impaired. Driving while drowsy is just as bad as driving drunk. The Centers for Disease Control and Prevention says that if you have been awake for 18 hours or more, it is the same as being drunk.
5. Drunk driving.
There are many people in the United States who drink alcohol. Drinking too much can make a person drunk and lead to drunk driving. A drunk driver has reduced vision, impaired decision-making, and reduced reaction time. This is why drunk driving is so dangerous. In fact, a drunk driving accident can be one of the deadliest auto accidents, often leading to serious injuries such as traumatic brain injuries.
How Do I Know If I Need a Lawyer After a Motor Vehicle Accident?
Sometimes you may not be clear if you need a lawyer after a car accident. The answer is almost always yes. Here are four questions to ask. If the answer is yes to at least one of the questions, then you should contact a Scranton car accident lawyer to help you handle your car accident claim.
1. Did you suffer serious injury or an injury with long-lasting effects in a car crash?
If you or a loved one required medical attention at a hospital after a car accident, a personal injury lawyer may be able to help you get the money needed for lost wages, physical therapy, medical expenses, or even home renovations to accommodate your injuries.
Many injuries caused by accidents or incidents require costly long-term care, even if the accident only caused minimal damage to your car. A personal injury lawyer can determine what your accident claim is worth and explain how to pursue that financial compensation. If your loved one died as a result of an accident or incident, a Scranton car accident lawyer can explain how to pursue financial recovery in a civil lawsuit against the at-fault party.
2. The other driver doesn't have insurance?
If the other driver caused the accident and does not have insurance or is underinsured (meaning they do not have sufficient coverage from their insurance company to compensate you), it can be difficult to receive the financial compensation you deserve with your insurance claim. The personal injury lawyers at Munley Law Personal Injury Attorneys have years of experience negotiating with insurance companies and the at-fault party.
3. Is the insurance company giving you "the runaround"?
Sometimes your insurance company, or the other driver's insurance company, may give you "the runaround." They can do this by
asking you for more information or documents than they need,
giving you a hard time, or
offering you a settlement amount too low to cover your lost wages, medical bills, and other losses.
If any of this is happening to you need an experienced attorney to negotiate on your behalf. An experienced car accident attorney at Munley Law Personal Injury Attorneys can help. We collectively have over 60 years of experience helping clients obtain the maximum compensation possible they deserve in car accident claims.
Call us today for legal advice and a free case review.
4. Are you missing work and not getting paid?
If an auto accident occurred in Scranton and you are not able to work, you may not be getting paid, especially if you work an hourly job. Even if you can work, you may not be able to work as much as you did before your injury. This will mean that you will make less money.
This inability to work may be temporary while you recover. Sometimes injuries suffered in a motor vehicle accident cause a permanent disability that changes your ability to work forever. Either way, you may have the legal right to receive the maximum compensation from the at-fault party or their insurance company for your lost wages, vacation or sick days, employee benefit contributions, and more. The experienced personal injury attorneys at Munley Law Personal Injury Attorneys provide legal help so you understand your rights. Contact us today for your free consultation.
Frequently Asked Questions About Failure to Yield Accidents
1. What are personal injury lawsuits?
When other drivers cause an auto accident by reckless driving or driving negligently, you may have the right to receive money for your injuries from the driver or his insurance company. You may be able to receive money for your medical bills, car repairs, and other expenses.
Unfortunately, liability is not always straightforward. But an experienced car accident lawyer can answer any questions you have. With proper legal advice, you will be able to decide whether to pursue a car crash claim against the at-fault person.
2. When must I file a claim after a motor vehicle accident?
You must file your claim within a time period called the statute of limitations. In D.C., the statute of limitations for most personal injury claims is three years from the date of the auto accident.
If you wait more than three years to pursue your motor vehicle accident claim, you won't be allowed to file a lawsuit in court and the at-fault party will no longer be required to compensate you.
There are some circumstances that shorten the time frame to file your claim, so you need to discuss your auto accident with a car accident lawyer as soon as possible.
3. What will happen after I hire a car accident lawyer?
After we establish an attorney-client relationship, we will investigate the car accident that caused your injury and gather as much information as possible.
Your auto accident lawyer will review the police report, talk to law enforcement and other relevant people, such as witnesses, and negotiate with the insurance companies.
Your car accident lawyer will also conduct a financial analysis. If the at-fault party has insurance, your car accident lawyer will contact the insurance company to obtain a fair settlement offer.
If a settlement offer is made, your attorney will review it with you to determine whether to accept, negotiate, or pursue the case in court.
You have the right to decide whether to accept a settlement offer or not. If the matter is not settled, a lawsuit may be filed in court.
4. Do I need to call a car accident lawyer?
Yes, almost always, especially if you suffered a serious injury or your medical bills are high. Because you must file your claim for most motor vehicle accidents within two years from the date the auto accident occurred, it is very important to seek legal advice from a Scranton car accident lawyer as soon as possible.
In order to receive compensation, you must prove the negligence of the other driver. Our experienced and skilled Scranton personal injury attorneys can help you.
You must also show that the at-fault party or the insurance company is required to pay for your medical bills and other losses under the circumstances of the accident. The experienced lawyers at our law firm can help, starting with our free consultation.
Our legal professional team will guide you through the legal process. As part of our legal representation of auto accident victims, we collect evidence from law enforcement and handle discussions with witnesses, other attorneys, and insurers.
Most importantly, we fight for your rights so you can receive fair compensation.
We'll fight to get the money you deserve.
When a driver fails to drive safely, including distracted driving, drunk driving, and other reckless behaviors, it can cause serious injuries that lead to significant medical bills. We fight for our clients. Our legal representation is well-known throughout Pennsylvania, including Philadephia, Scranton, and the surrounding areas, for our effective representation of accident victims.
When we establish an attorney-client relationship with you, there is no legal fee to you until we receive compensation on your behalf for your injuries. This means that our personal injury attorneys will pursue your claim without any financial risk to you. We work on a contingency fee basis, which means there are no legal costs to you until we recover money for you.
What makes Munley Law Personal Injury Attorneys different?
For more than 60 years, Munley Law Personal Injury Attorneys has been representing victims of distracted driving and other car accidents across Pennsylvania.  Our lawyers have consistently been named among the Best Lawyers in America. Our law firm has been listed among the nation's Best Law Firms by U.S. News and World Report. Our results speak for themselves: we have recovered millions of dollars in settlements and verdicts on behalf of our clients.
Contact a Motor Vehicle Accidents Attorney Today.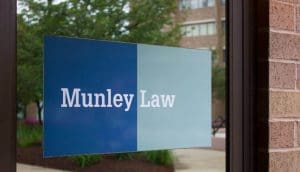 The injury you or your loved one suffered could impact your life forever. We will work hard to recover the maximum amount of money for the injuries caused by your accident. Each Scranton car accident lawyer at Munley Law Personal Injury Attorneys has extensive experience with a wide range of personal injury cases. You should not have to face financial expenses on your own if someone else caused your accident.
If you or a loved one has been injured in a car accident, contact a Scranton car accident lawyer of Munley Law Personal Injury Attorneys today for a free case evaluation. We can assess your case and discuss your legal options.