Head-On Auto Accidents in Scranton PA
For many people, getting behind the wheel of a car is an essential part of everyday life. But it's important to remember that driving always comes with risks; in fact, car accidents account for a large portion of fatalities in the US and around the world every year. The Association for Safe International Road Travel reports that approximately 1.35 million people die from car accidents annually, averaging out to around 3,700 people every single day.
$32 Million Wrongful Death
$26 Million Truck Accident
$17.5 Million Car Accident
$12 Million Product Liability
$9 Million Truck Accident
$8 Million Truck Accident
$8 Million Truck Accident
$7.5 Million Auto Accident
$6.9 Million Garbage Truck Accident
$6.5 Million Traumatic Brain Injury
$5 Million Medical Malpractice
$5 Million Bus Accidents
Some types of auto accidents tend to be more destructive and more dangerous than others, and this includes head-on collisions. If you or a loved one has experienced motor vehicle accidents that include head-on collision, remember that you are not alone. Our Scranton car accident lawyer can help ensure you receive the compensation and justice you are owed. Reach out today for a free initial consultation with a Scranton head-on collision accident lawyer.
What is a Head-On Collision?
A head-on collision is a car accident in which the front ends of two vehicles, traveling in opposite directions, collide with each other. This type of collision is far less common than something like a rear-end collision or a fender bender, but is also far more likely to result in serious injury, property damage, or even death.
A study released by the US Department of Transportation reported a total of 3,613 fatal head-on crashes in 2019, accounting for just under 11 percent of total crash fatalities that year. Scranton itself has seen fatal head-on collisions in auto accidents as recently as October of 2021, when a driver heading north on a southbound lane of I-81 crashed into a vehicle driving in the correct direction. These types of auto accidents are devastating, and we are here to ensure your rights are protected in the wake of something unimaginable.
If you have been the victim of a head-on collision in Scranton, contact an experienced Scranton car accident lawyer at Munley Law Personal Injury Attorneys to begin the process of seeking justice.
Causes of Head-On Collisions Car Accidents
A head-on collision auto accident can be caused by a wide variety of factors, but there are a few conditions and situations that are particularly common. One of these is intoxication, or a driver being under the influence of drugs and/or alcohol. When you drink and drive, your judgment, response time, and overall ability to control your vehicle is extremely impaired. A driver under the influence may swerve into an oncoming lane of traffic, causing car crashes involving head-on collisions. Remember, your judgement can be impaired even if you are below the legal BAC limit.
Additional causes may include:
Mechanical failure of the vehicle
Distracted driving
Fatigued driving
Attempting to pass another car unsafely
Speeding around curves
And more
Remember that even if the car crash was partially your fault, you should still seek out an experienced auto accident attorney in Scranton. Under the Pennsylvania comparative negligence law, you may still be able to receive some compensation, provided you are less than 51% at fault.
What to Do After a Head-On Collision in Scranton, Pa
After any kind of car crash, your primary goal should be to assess your physical state and seek medical care if needed. Beyond that, it's very important to call the police immediately. It's always recommended to call the police after a motor vehicle accident, but it's a legal requirement if there is extensive property damage and/or an injured party, both of which are very likely after a head-on collision car crash.
Once the police arrive at the scene, they will assess all vehicles involved, speak to all parties involved (presuming they are medically stable and capable of this), and potentially speak to witnesses. All of this, and more, will ultimately go into their police report, which is used in car accident claims.
While this report can be contested, it's often seen as the official account of what took place and may play a role in the decisions of both insurance companies and, if needed, the court. It's also recommended to reach out to a Scranton head-on collision attorney as soon as possible after the accident.
While the Pennsylvania statute of limitations allows two years to pursue legal action in a personal injury case, it's best to act far more quickly. Call a Munley car accident lawyer as soon as possible to begin the process of seeking justice.
Determining and Proving Liability in a Head-On Collision
All drivers take on a duty of care each time they get behind the wheel. This means they are responsible for making safe and reasonable decisions, following traffic laws, and avoiding anything that could potentially cause harm or danger to themselves or another driver. If someone breaches this duty of care, they are negligent, and therefore at least partially responsible for the accident.
Specifically, a plaintiff must prove the following in order to show that the defendant was negligent:
The defendant owed a duty of care to the plaintiff. This is a fairly simple element to prove. As mentioned above, all drivers owe all other drivers a duty of care in the form of safe, legal, and responsible driving.
The defendant breached that duty of care. In other words, they did something that violated the agreed duty of care. Perhaps they were driving drunk, or texting while driving, or attempted to pass you in a reckless or unsafe manner. This all depends on the specifics of your case.
The breach of the duty of care was a direct cause of the accident and the plaintiff's injuries or worst case, wrongful death. 
The accident caused real harm to the plaintiff. Again, this depends on the specifics of your case. You and your Scranton PA car accident lawyer will work together to show the ways in which the accident legitimately harmed you, whether in the form of injury, financial loss, property damage, emotional suffering, or all of the above.
Liability is determined case by case, and will be decided based on the specific details of your car accident. Your Munley car accident lawyer will work tirelessly to prove all of the above on your behalf.
Frequently Asked Questions About Head-On Collisions in Scranton
What Can Our Car Accident Lawyer Do For You?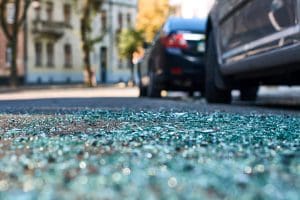 It's always best to seek legal advice and representation after a car crash, but this is especially true in the case of a head-on collision. These types of accidents can be absolutely devastating, and hiring an experienced, dedicated Scranton PA car accident attorney at Munley Law Personal Injury Attorneys will help ensure you receive the justice and compensation you deserve.
Many people may assume that they can rely on their insurance company, but unfortunately, this is not always the case. While your insurance company exists for a reason, they are always seeking a profit. They will try to pay out as little as possible, and without an experienced lawyer to fight for you, you can easily get shortchanged. We will go through your case in the utmost detail to ensure you receive every penny you are owed.
Navigating the legal and insurance systems can be overwhelming in the best of times, and so much more so in the wake of a traumatizing experience such as this. The car accident lawyers at Munley Law Personal Injury Attorneys have a stellar track record when it comes to achieving settlements for our clients. Let us do all the hard work so that you can focus on healing.
What Kind of Damages Can Your Car Accident Lawyer Recover For You?
At Munley Law Personal Injury Attorneys, our primary goal is always to reach a settlement for our clients. The attorneys at our law firm will review your case in order to determine what type of damages and compensation you may be eligible for. In the case of a head-on collision, damages may include any or all of the following:
The cost of medical bills, both past and those estimated for the future
Lost wages
A lowered earning capacity for some or all of the foreseeable future
Property damage
Disability
Rehabilitation costs
Emotional suffering in the form of grief, trauma, PTSD, anxiety, depression, and more
Loss of the enjoyment of life
Reaching and Negotiating a Settlement
The details of your settlement negotiations will depend on the specifics of your car accident case. One of the first steps in settlement negotiations is to determine how much your damages from the auto accident amount to.
First, this will include calculating your economic losses. This includes the cost of your medical bills, lost wages (if your injuries prevented you from working), and compensation for an overall lowered earning capacity. Beyond that, you and your attorney will determine the cost of your non economic losses. This can be more difficult to calculate, but generally includes financial compensation for your pain and suffering, which may include PTSD, anxiety, depression, emotional distress, and more.
All of this is taken into account in order to reach an initial settlement number in your car accident claim. This amount may then be adjusted based on a few factors before being presented to the defendant. For instance, if you bear some degree of responsibility for the accident, the number will be adjusted accordingly. Remember that in Pennsylvania, you may still receive compensation if you bear partial fault, as long as you are less than 51% responsible. Your settlement amount may also be adjusted based on the number of defendants, and more.
Why Munley Law Personal Injury Attorneys Scranton PA Car Accident Attorneys?
If you or a loved one has been the victim of a head-on collision, or a car accident of any kind, we are here to help. At Munley Law Personal Injury Attorneys, our car accident attorneys will fight for justice and financial compensation, so you can focus on your mental and physical recovery.
Our team excellent, highly experienced auto accident lawyers will work tirelessly for you. We believe that all car accident victims deserve justice. You will be paired with a Scranton car accident lawyer with over a decade of experience in helping auto accident victims. Contact us today to schedule your free consultation and learn how we can help.
Related Practice Areas
Munley Law Personal Injury Attorneys
227 Penn Ave,
Scranton, PA 18503
+15708654699