Workplace injuries are common, especially in warehouse settings with many moving parts. However, when you are injured at work, you may wonder what rights you have. Even more, you may wonder if the size of the company you are employed with will impact the value of your claim.
Munley Law Personal Injury Attorneys is here for warehouse workers seeking a workers' compensation lawyer.
Potential Dangers in Walmart Warehouses
From moving machinery, forklifts, ladders, toxic chemicals, and slick floors, warehouses are full of potential dangers for employees. These spaces are often busy, no matter the time of day your shift may be.
While companies both large and small owe a duty of care to their employees to maintain safe working conditions, sometimes accidents occur.
In those cases, employees may need to seek a workers' compensation claim. Common workplace injuries in Walmart warehouses include:
Muscle strains/pulls
Cuts
Eye injuries
Contusions
Sprains
In a study of a Walmart Distribution Center in Mount Crawford, VA from 2016 through 2017, of the total 685 employees, those who experienced injuries were more likely to be employed by the company for less than a year, as opposed to those who had worked for the Walmart Distribution Center for a year or more.
Furthermore, of the reported injuries, muscle injuries were most commonly reported at 41%.
Though employers like Walmart offer training to employees, they must also provide workers' compensation for employees who are hurt at work.
Common Warehouse Injuries
According to The Occupational Safety and Health Administration (OSHA), common hazards for workers in warehouse settings include:
Unsafe use of forklifts
Improper stacking of products and materials
Failure to use personal protective equipment
Failing to follow safety measures
Inadequate fire and safety measures
Repetitive motion injuries
This isn't surprising when you consider that in 2020 alone, forklifts caused 78 work-related deaths and 7,290 nonfatal injuries.
While these are all well-known hazards, employees still may feel like they don't know what rights they have when they are hurt at work.
I Work For a Walmart Warehouse and Got Hurt. What Can I Do?
After becoming injured at work, you likely are very stressed about what's to come–especially if you cannot work right now due to your injuries.
However, after getting hurt at work, there are some things you need to do to protect yourself in the future.
While each state's laws may differ, you need to report the accident in a timely fashion to your supervisor and file an accident report. In states like Pennsylvania, you have 120 days from the date of the accident to report the injury. Failure to do so may mean your claim can be denied.
Once a formal report has been made, you will likely be contacted by the company's insurance representatives for details.
At this point, it is imperative you do not sign any settlements or documentation before speaking with an attorney. Not all workplace injuries are complex, however, if the extent of your injuries is likely to change your ability to work in the future, you may need legal representation.
Walmart HR is Providing Me Guidance Through a Workers' Comp Claim. Do I Need a Lawyer?
Remember that even if your employer's human resources department is providing you with the company documentation needed to file a workers' comp claim, it does not mean that they can or even are, providing you with legal advice.
Instead, you will want to speak with a workers' compensation lawyer who can guide you through the process.
Walmart Denied My Workers' Compensation Claim. What Now?
There is a common misconception that larger companies are less likely to deny a workers' compensation claim as compared to smaller businesses. However, all companies have a bottom line and if there are any flaws in your claim, they will likely deny your benefits.
This is why you'll want representation from a Munley Law Personal Injury Attorneys workers' compensation attorney. We can negotiate with your employer on your behalf, and help gather any evidence needed to build your case while you focus on recovery.
I Delayed Medical Treatment Now I'm in Too Much Pain To Work. Is it Too Late To Make A Claim?
Even veteran employees sometimes make mistakes. Be it a slip and fall, toxic exposure, etc. even the most trained employee can find themselves hurt after a workplace incident. However, do not let embarrassment or fear keep you from seeking medical treatment. Unfortunately, the longer you delay, the weaker your claim becomes.
The sooner you can document your injuries, the stronger your case becomes and the quicker you will be on the road to recovery.
I'm Employed Part-Time By A Walmart Warehouse. Am I Covered Under Workers' Compensation Laws?
In Pennsylvania, nearly every type of employee is covered under the Workers' Compensation Act with the exception of volunteers and independent contractors. This means that even as a part-time employee, you are still offered protections if you are hurt at work.
If you are unsure if your part-time status as a Walmart employee impacts your workers' compensation benefits, contact Munley Law Personal Injury Attorneys to learn about your legal rights.
As a part-time employee or full-time employee,  you must remember that the compensation you are entitled to is only a percentage of your average earnings. Further, the amount of compensation you receive will depend on if you have become partially or totally disabled as a result of the injury.
For example, in Pennsylvania, if you are totally disabled by your work injury you are entitled to weekly benefits equal to about two-thirds of your weekly pay for injuries occurring on or after January 1, 2022.
Then, after two years, your disability status is reviewed for  your compensation or ability to return to work.. Not all employees are entitled to two years of workers' comp–it comes down to the specifics of your injury and the time needed to heal.
I Have Been Offered Light-Duty. Should I Take It?
Sometimes when an employee is hurt at work, but can still work to a degree, the employer may offer light-duty so that the employee can continue to earn full wages.
It is up to you and your medical provider if you can physically handle the demands of light-duty work. However, if you are feeling pressured into taking light duty, meet with a workers' compensation attorney to review your rights.
My Employer Has Given Me a Different Position But The Pay Is Less. Is That Legal?
All companies are different but within your employment contract, you may be offered a new position that meets your physical limitations following injury. However, the job may not pay as well as your former position.
By law, employers are not required to give you the same pay if you are offered a different position.
Walmart Warehouse Employee In Need of A Workers' Comp Lawyer? Call Munley Law Personal Injury Attorneys.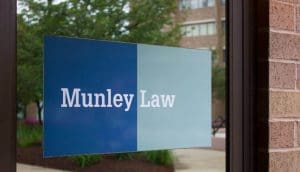 If you are employed by a Walmart warehouse and have suffered a workplace injury, know that you are entitled to workers' compensation benefits. At Munley Law Personal Injury Attorneys, we handle workers' compensation claims in a variety of industries, making sure hurt employees are able to recover without financial strain.
If you feel shame, fear, or intimidation by a big-name company, know that you don't have to handle the claims process alone. A Munley Law Personal Injury Attorneysyer is here to help.
For a no-obligation, free consultation, contact the Walmart warehouse workers' compensation lawyers of Munley Law Personal Injury Attorneys at 570-669-3497 or email us today.
You can contact us if you injured yourself while working for other businesses. Such as, but not limited to:
Injuries in Amazon Warehouse
Injuries in Fabri Kal Warehouse
Injuries in Home Depot Warehouse
Injuries in FEDEX Warehouse
Injuries in TJ Maxx Warehouse
Injuries in Cintas Warehouse
Injuries in Core Mark Warehouse
Injuries in Frito Lay Warehouse
Injuries in Adidas Warehouse
Work Injuries in Sam's Club Warehouse