With more and more things going virtual because of the pandemic, there has been a huge increase in online shopping and on-demand delivery. While some companies create their own delivery networks, many contract out last mile partners, such as FedEx. 
For every on-time delivery, the company's warehouse teams put their bodies on the line, dealing with serious machinery, tight deadlines, and heavy loads. These unseen heroes are the ones who make sure birthday gifts arrive on time, necessities reach their destinations, and customers are satisfied. 
In February of 2021, in York County, PA a FedEx warehouse went up in flames (WGAL). Thankfully, no one was hurt, but the same cannot be said of an accident in Tennessee. In December of 2020, a warehouse worker was killed by a shipping container. Upon investigation, OSHA found that the incident was perfectly preventable and fined FedEx for failing to provide workers with a safe environment (ProPublica). 
If you or a loved one has been injured in a FedEx warehouse accident, you are likely entitled to workers' compensation. The process for receiving your aid can be tricky and confusing, and so selecting a workers' compensation lawyer you can trust can make the process that much smoother. From submitting your claim, to handling the appeals process should your claim be denied, our team of workers compensation attorneys at Munley Law Personal Injury Attorneys will be there with you every step of the way. Our award-winning team will fight for you and make sure FedEx gives you the attention and resources you deserve. 
How Does Workers' Compensation Work?
If you were injured on the job in the state of Pennsylvania, your employer will likely be required to support your claim. The Pennsylvania Workers' Compensation Act covers almost all workers, including full-time, part-time, and seasonal laborers. Workers, like rail workers, longshore workers, and federal employees, are covered under other, more specific workers' compensation bills, and are therefore not covered under the Pennsylvania Workers' Compensation Act.
Depending on the severity of your injury, you can expect to receive up to two thirds of your weekly pay, or up to $1,205.00 per week. Your payout will depend on whether your injury makes you totally unable to work, or if it just reduces your earning capacity. For more information on workers' compensation, check out our workers' compensation page on our website. 
What Injuries Are Common and Covered Under Workers' Compensation for Fedex?
Fedex ships over 12 million packages a day (Statista), and workers are often moving at break-neck speeds to meet demands. Between operating machines like forklifts, carrying heavy packages, and moving around shipping containers, warehouse workers can be injured in any number of ways. Some of the most common injuries for which a warehouse worker could seek compensation include the following:
Orthopedic Injuries
Orthopedic injuries include sprains, strains, and breaks. If severe enough, many orthopedic injuries can require surgical care and physical therapy to correct. The recovery can be long, intensive, and expensive. Receiving workers' compensation from FedEx will help to offset some of the costs involved in recovery.
Brain and Neck Injuries
Brain and neck injuries occur often from a sharp blow to the head, neck, or back and can result in pinched nerves, whiplash, concussions, vertebral fractures, and even in severe cases, spinal cord damage. In the warehouse, these can arise from slips, falls, lifting heavy objects, or even machinery malfunctions where objects are dropped. If you suspect you have a brain and or a neck injury seek medical attention immediately as these can be particularly severe. Healing from a traumatic brain or spinal injury often requires long periods of rest, and may prohibit you from returning to work. Seeking workers' compensation may help support you financially if you are unable to work.
COVID-19
Moving around in tight spaces and in close contact with other laborers, warehouse workers are at risk of contracting COVID-19. If you contract COVID-19 on the clock, you are likely entitled to the same workers' compensation benefits. 
Other Injuries
It is important to note that the above is not an inclusive list. There are likely other types of injuries that your employer may be liable for. Similarly, Pennsylvania workers' compensation law does not discriminate based on the severity of injury, so no matter how minor your injury is, you may be entitled to some degree of support from your employer. 
Are There Any Injuries That Are Not Covered Under Workers' Compensation?
Yes. There are a number of injuries that exclude you from receiving benefits. A few examples are listed below.
Injuries that occur under the influence
If you were under the influence of either drugs or alcohol at the time of the injury, this likely will prevent you from seeking compensation. 
Injuries from personal conflicts
If you are injured in an attack from either a coworker or someone unaffiliated with your company because of an altercation, provoked or unprovoked, you will not be entitled for workers' compensation.
Injuries from self-harm
If you are injured in an act of active self-harm, your employer will not compensate you.
What is the First Thing I Should Do If I Believe I Am Entitled to Workers' Compensation from Fedex?
As soon as possible, be sure to report your accident to your supervisor. If possible, it is best to do this in writing, so there is a written record of your injury. It is a good idea to keep your own personal copies of the correspondence. Similarly, it is important you report the incident in a timely manner. Pennsylvania law outlines that failure to report your accident within 120 days will result in denial of your claim. For the best outcome, report your injury as soon as possible. 
Why Should I Pick Munley Law Personal Injury Attorneys to Represent Me?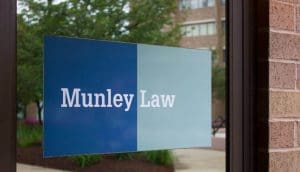 At Munley Law Personal Injury Attorneys, we know that suffering a workplace injury is a trying experience. In these difficult times, let us be the advocate you need. We are a family business, and fight for our clients like we fight for each other.
With over 60 years of experience, we are an award-winning team of lawyers. We lead with compassion, poise, and grace, and ensure that you get the outcome you deserve. Our results speak for themselves: many of our lawyers have won multi-million dollar settlement outcomes. 
Reach out to us for a free consultation today and make sure that you get the care and support you are entitled to for your Fedex warehouse workers' compensation claim.
Make sure to call us if you were injured in the warehouses of other businesses, such as:
Injuries in Amazon Warehouse
Injuries in Fabri Kal Warehouse
Injuries in Home Depot Warehouse
Injuries in TJ Maxx Warehouse
Injuries in Cintas Warehouse
Injuries in Walmart Warehouse
Injuries in Core Mark Warehouse
Injuries in Frito Lay Warehouse
Injuries in Adidas Warehouse
Work Injuries in Sam's Club Warehouse