Medical mistakes are the 3rd leading cause of death in the U.S. If you need a Philadelphia medical malpractice lawyer, call or click to schedule a free consultation today.
Medical malpractice is among the leading causes of death in the United States, and it accounts for an alarming number of avoidable illnesses and injury-related complications every year. Despite the high standards to which physicians and healthcare facilities are held, they continue to make mistakes on a regular basis – and the consequences are often devastating for patients and their families.
At Munley Law Personal Injury Attorneys, we are well known for our experience in medical malpractice litigation. Our medical malpractice lawyers have consistently been named among the Best Lawyers in America, and we have recovered millions of dollars for victims of medical mistakes. If you, your child, or another loved one is suffering from a health condition that you believe may be the result of medical malpractice in Philadelphia, we encourage you to contact us for a free consultation about your legal rights. Speak to a Philadelphia medical malpractice lawyer from our law firm today.
"I had a complex medical malpractice case . . . [Munley Law Personal Injury Attorneys] took me through all the steps necessary to prove negligent behavior that might have caused death of my loved one. [Marion Munley] was very compassionate and very detailed and patient. . . . I would highly recommend them as a Personal Injury Law Firm." – Satisfied Medical Malpractice Client
Understanding Your Philadelphia Medical Malpractice Claim
Philadelphia is home to some of the country's top medical facilities. The Hospital of the University of Pennsylvania, Thomas Jefferson University Hospitals, Children's Hospital of Philadelphia (CHOP), Roxborough Memorial Hospital, Einstein Medical Center, Kindred Hospital Philadelphia, and numerous others provide care for people in Philly and beyond every day. But even the best doctors and medical professionals can commit serious errors. In fact, many doctors who have been sued for medical malpractice are still practicing today. 
In Pennsylvania, all licensed healthcare professionals and medical facilities are held to high standards of care. These standards apply to all health care providers in Philadelphia, including physicians, surgeons, nurses, hospital staff, nursing home caregivers, long-term care professionals, and clinic personnel. When they fail to meet these standards, and their patients suffer as a result, they can be held liable for medical malpractice. In order to hold the negligent healthcare provider responsible, you will need to contact a medical malpractice lawyer. A Philadelphia medical malpractice lawyer at Munley Law Personal Injury Attorneys can help you take action against hospitals, clinics, and medical facilities of all sizes. Whether it's a solo practitioner or a major hospital system, we can help. 
When it comes to medical care, it only takes one simple mistake to cause a lifetime of consequences. From misdiagnoses to medication errors, these errors can (and should) be avoided.  There are clearly-established protocols designed to protect patient safety. Unfortunately, inexperience, ineptitude, inattention, fatigue, and a variety of other factors routinely lead to medical malpractice. 
Our medical malpractice lawyers represent clients in Philadelphia and throughout Pennsylvania who have suffered due to various forms of medical malpractice, including:
Failure to protect patients from dangerous conditions

Hospital infections stemming from unclean medical instruments

Improperly-administered medications, dangerous drug combinations, and other medication errors

Improperly managing a pregnancy or the delivery of a baby resulting in

birth injury

Failure to properly treat a medical condition

Misdiagnosis of a medical condition (including cancer misdiagnosis)

Error in medical records
Elements of a Medical Malpractice Claim
There are several conditions that must be met in order to sue for medical negligence. 
First, you must demonstrate that a doctor-patient relationship existed between the victim and the negligent healthcare provider. If a doctor-patient relationship existed, then the doctor had a duty to provide you with competent care. This is usually the most straightforward element of your case. A "doctor-patient relationship" simply means that the doctor (or other professional) was responsible for administering care or providing a diagnosis in an official capacity. 
Next, you will need to show that negligence occurred. In other words, you must prove that the doctor or medical professional deviated from the reasonable standard of care. The "reasonable standard of care" refers to the level and type of care that a competent and skilled healthcare professional would provide under similar circumstances. In order to establish this, your medical malpractice lawyer will consult with physicians and medical experts to define what the correct standard of care should have been in your situation, and whether your doctor adhered to that standard or not. 
Then, you must prove that the negligence displayed by your doctor resulted in the harm you have suffered. This is known as "proof of harm." It is not enough to merely prove that your doctor made a mistake.  You must establish a clear link between your doctor's mistake or misconduct and your injury, illness, or loss of a loved one. The doctor or their employer may attempt to argue that the worsening of your condition was not related to their action or inaction; your lawyers will work with a team of medical experts to prove otherwise. 
Lastly, you must be able to prove that you suffered damages as a result of the injury or illness you experienced due to your doctor's negligence. Damages may include excessive medical bills, extended hospital stays, lost income, pain and suffering, and more. 
The Philadelphia medical malpractice lawyers at Munley Law Personal Injury Attorneys give step-by-step guidance
If you think you have been the victim of medical malpractice, or a family member has suffered from the negligence of a medical professional, here are some steps to take:
Act quickly. You need to file your claim within a certain period of time from when the injury occurred. Your lawyer will help ensure the time period for filing your medical malpractice claim does not run out. 

Request copies of your medical records. 

Write down everything that happened so it's still fresh in your mind. 

Once you've hired a medical malpractice attorney, an investigation will be conducted to determine if there was negligence involved. Your lawyer will obtain copies of all of your medical records and contact any hospitals, physicians and other providers that may have been involved in your case. We work with medical doctors and experts to review your records in detail and identify avoidable mistakes or wrongdoing. 

After your case has been investigated and examined, if negligence is found, your lawyer will help you file a medical malpractice lawsuit. 
Munley Law Personal Injury Attorneys's Philadelphia Medical Malpractice Lawyers have Won Millions in Settlements
$2 million settlement won from foreign medical device manufacturer 

$1.6 million jury verdict won for medical malpractice case that caused a death 

$1.5 million award for death due to medical negligence 

$1.4 settlement won in ER wrongful death case 

$1.3 million settlement won for hospital infection case 
Most Common Types of Medical Malpractice 
Medical malpractice lawsuits can come from a wide variety of procedures, doctors visits, and more. Ultimately, if your medical professional failed to provide proper care, and that resulted in injury or even wrongful death, you could have a medical malpractice case. Common types of medical malpractice include:  
Hospital Infections
Infections are a risk that come with most surgeries and hospital stays. Medical professionals always need to be watching for signs of an infection and begin proper treatment immediately. Bacterial infections, such as E.coli or strep or viral infections like influenza can be very serious for a patient in recovery. When an infection becomes advanced, a patient may become septic, requiring aggressive treatment and possibly lead to wrongful death when not treated fast enough. 
Birth Injuries
The birth of a new baby should be a joyous time for the entire family. Birth injuries suffered at a Philadelphia hospital can turn what should be a happy event into a scary and traumatic one. The experienced medical malpractice lawyers at Munley Law Personal Injury Attorneys handle cases involving all types of birth injuries, including cerebral palsy, Erb's palsy, shoulder dystocia, hypoxia, pre-eclampsia, toxemia, uterine rupture and respiratory distress. A birth injury in Philadelphia could have occurred as a result of a duty of care failure on the part of the OB-GYN to recognize fetal distress, from the misuse of forceps, vacuums and other medical devices during delivery, or from a delayed C-section or another mistake. If your baby suffered birth injuries due to a trauma caused by medical negligence, the resulting harm can lead to a lifetime of medical expenses, pain and suffering, and more. The obstetrician and other responsible parties must be held accountable. Contact an experienced, compassionate Philadelphia medical malpractice attorney at Munley Law Personal Injury Attorneys for a free, confidential consultation. 
Failure to Diagnose/Misdiagnosis 
The sooner you find out you have a serious illness such as cancer, the better your treatment options and chance of survival. Losing vital treatment time due to a doctor's delayed or missed diagnosis can mean the difference between life and death. Likewise, a wrong diagnosis can subject a patient to unnecessary, painful, and costly treatment. A negligent doctor, lab technician or health care facility must be held accountable for the misdiagnosis in a serious case of breast cancer, colon cancer, lung cancer, heart disease, stroke, traumatic brain injuries, spinal cord injuries or any other serious illness. If you or someone you love suffered from a missed, delayed, or incorrect diagnosis that led to injury or wrongful death, contact the personal injury team at Munley Law Personal Injury Attorneys today for a free case evaluation.  
Medication Errors 
Prescribing the wrong medication, giving the wrong dosage or prescribing medications with adverse interactions or side effects can result in serious harm.  A Philadelphia pharmacist may make a medical error in filling a prescription or a doctor may make an error in prescribing a medication; even clerical errors can result in dosage mistakes. If a medication error has compromised your health, you need to contact a medical malpractice attorney to make sure medical malpractice law is being upheld. 
Anesthesia Errors
Anesthesia mistakes can have devastating consequences for patients. An anesthesiologist is responsible for evaluating your medical history to determine which anesthesia drugs can be used safely. Anesthesia errors can include the failure to take a proper medical history, improperly inserting a breathing tube, administering too high or too low a dosage of anesthesia, inadequate monitoring of vital signs and failure to recognize and respond to complications. 
Emergency Room Errors 
ER doctors and nurses must make critical decisions quickly and carefully when seriously injured patients come to the ER. They need to quickly identify and treat life-threatening conditions. A failure to recognize a heart attack, stroke, blood clot, brain injury or another serious condition can lead to a failure to treat and to provide proper medical care. 
Lab or Test Errors 
When a lab technician or a radiologist misreads a test it can result in a medical misdiagnosis. A misread CT scan can result in a delayed diagnosis of cancer or another potentially deadly condition. The hospital or medical professional responsible for this medical error should be held accountable. Our attorneys will provide you with legal advice if necessary. 
Philadelphia Nursing Home Negligence 
When a loved one is in a nursing home, you expect they will be well cared for. Unfortunately many of our most vulnerable citizens suffer inadequate care, neglect and abuse in nursing homes or long-term care facilities. Nursing home abuse or neglect claims can happen due to untreated bedsores, serious falls, malnutrition and dehydration, over medication, use of restraints that cause injury, unexplained injury, verbal, emotional or sexual abuse.  
Who is responsible for medical malpractice?
Although a medical error may not have been intentional, it can still lead to serious injury or a wrongful death that may have been prevented with a higher duty of care. Here are some of the medical professionals who might be negligent in a medical malpractice case: 
Pharmacist 

OB/GYN 

Oncologist 

Cardiologist 

Surgeon 
Cosmetic Surgeon 

Anesthesiologist 

Surgery Center 

Nursing Home 
Top medical malpractice attorneys in Philadelphia
Munley Law Personal Injury Attorneys firm represents victims of medical malpractice throughout Pennsylvania. For more than  years, our lawyers have been obtaining justice for individuals and families who have suffered devastating losses, pain and suffering, and more through someone else's negligence. We have won millions of dollars on behalf of our clients. While no amount of money can undo the pain you have experienced, it can help alleviate your medical bills, lost wages, and other costs, and bring you some peace of mind.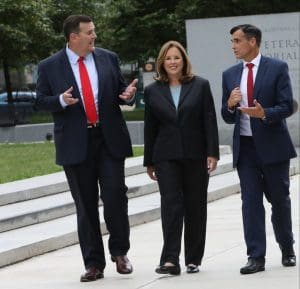 Medical Malpractice FAQs: What Patients and Families Need to Know
Q: How do I know if I have a claim for medical malpractice?
It is not easy to know whether you have a claim for a medical malpractice case. In order to determine whether you should file a claim, you need to understand the relevant medical standard of care as well as the various legal principles that apply. When you contact us about your case, our Philadelphia medical malpractice lawyers use their decades of experience in medical malpractice insurance settlement negotiations and courtroom litigation to provide you with an honest and straightforward assessment of your legal rights.
Q: If my doctor failed to obtain my informed consent, does this constitute a medical malpractice case?
Potentially, yes. In Pennsylvania, the "established customary standard of care" requires practicing physicians to obtain patients' informed consent under many (but not all) circumstances. If you consented to a medical procedure without adequate disclosure of the risks involved, you may have a claim for medical malpractice, and you should speak to any of our Philadelphia medical malpractice lawyers promptly.
Q: I was hurt by a defective medical device or implant. Can I sue for medical malpractice?
A defective medical device or implant is not always indicative of medical negligence. Sometimes medical devices malfunction or are found to be defective through no fault of the doctor who used them. In that situation, you may be able to bring a lawsuit against the manufacturer of the dangerous device instead. On the other hand, if your doctor knew, or should have known, that the implant used in your surgery or the device employed in your care was unsafe, they can share liability for the resulting harm. An experienced medical malpractice lawyer can advise you as to who should be held responsible for the injury or illness you have suffered. 
Q: I suffered complications after surgery at a Philadelphia hospital. Is this medical malpractice?
It depends. Complications after surgery are not always a sign of malpractice; most surgeries come with some risk of complications. However, serious complications can also result from your doctor or surgeon's failure to exercise reasonable care. If you think malpractice may be to blame for your postoperative complications, contact a medical malpractice attorney for a free review of your case. 
Q: What types of birth injuries can be indicative of medical malpractice?
Numerous types of birth injuries can be indicative of medical malpractice during pregnancy, labor, and/or delivery. Some of the most-common examples include:
Bacterial meningitis

Bone fractures

Brachial Plexus Palsy

Cephalohematoma

Cerebral Palsy

Erb's Palsy

Excessive bleeding

Inadequate oxygen supply (hypoxia)

Shoulder dystocia

Viral encephalitis
Q: Where can I find more information about filing a medical malpractice claim?
To learn more about your rights as a victim of medical malpractice in Pennsylvania, you can read our Medical Malpractice Questions and Answers. For personalized legal advice, you can contact a Philadelphia medical malpractice attorney 24/7 to schedule a free consultation.
Contact Our Medical Malpractice Lawyer at Our Law Offices in Philadelphia,
Munley Law Personal Injury Lawyers Will Help You Get Compensation for Medical Malpractice claims
If you would like to speak with one of our medical malpractice lawyers in confidence, contact us now to arrange your free, no-obligation consultation. You can reach us by phone at (570) 338-4494, or send us your contact information online and a member of our firm will be in touch as soon as possible.
Philadelphia Practice Areas
Munley Law Personal Injury Attorneys
1617 John F Kennedy Blvd
Suite 1690,
Philadelphia, PA 19103
(215) 515-7747