In 2020 alone, there were 213,100 warehouse-related injuries and 8,300 warehouse illnesses reported. In fact, in 2019, the warehouse sector was responsible for the second-highest number of fatal workplace injuries compared to all other industries.
If you work in a Boscov's warehouse or another retail supplier and manufacturer, the workers' compensation lawyers of Munley Law Personal Injury Attorneys can guide you through the workers' compensation process.
The Boscov Story
Boscov's Inc. is America's largest family-owned department store with 48 locations in Pennsylvania, New Jersey, Maryland, New York, Connecticut, Delaware, Ohio, and Rhode Island.
The first Boscovs opened in 1918 in Reading, Pa. In the 1980s, the chain opened operations in Delaware and New York. By the early 1990s, locations had opened in Maryland and New Jersey. It wasn't until the mid-2010s that stores would expand into Ohio, Connecticut, and Rhode Island. 
It is estimated that Boscov's Inc has approximately 8,000 employees. 
Common Workplace Injuries in Warehouses
Warehouse injuries continue to be an issue despite growing technological advances in these settings. Because many Boscov locations are not just clothing, these warehouses may be responsible for the lifting and transportation of heavy furniture and other home goods, leaving employees susceptible to severe injuries.
Common workplace accidents in Boscov warehouses and other retail warehouses include:
Forklift accidents


Falling objects

Stuck between objects, machinery, etc.

Slip and falls

Hazardous materials

Repetitive motion injuries

Overexertion 
Depending on the severity of the accident and the facts surround it, employees may find themselves susceptible to minor to severe injuries ranging from:
Broken bones

Amputated limbs

Toxic exposure

Sprains and fractures 

Muscle strain

Death
Unfortunately, despite the prevalence of warehouse injuries, many warehouse employees fear retaliation or simply worry that by seeking advice, they can lose their jobs. However, it's critical as a Boscov warehouse employee that you know your legal rights in the workers' comp claim process.
I Work For a Boscov Warehouse and Got Hurt. What Can I Do?
Getting injured at your warehouse job can be stressful, especially if your injuries leave you unable to get back to work quickly.
However, after a warehouse injury, there are steps you need to take to protect your workers' comp claim in the immediate and long term.
While each state's laws may differ across Boscov locations, you need to report the accident to your supervisor and file an accident report. Once a formal report has been made, you will be contacted by the company's insurance representatives for details as well as be required to seek medical treatment from a company-approved physician.
Know that you are not required to accept a settlement for your losses that does not seem fair to you. A workers' compensation lawyer from Munley Law Personal Injury Attorneys can help you navigate the claims process, and get the compensation you need to move forward.
Eligibility For Workers' Compensation as a Boscov Warehouse Employee
Under the Pennsylvania Workers' Compensation Act, employers must carry workers' compensation coverage for all employees, with exceptions for independent contractors.
This includes temporary and part-time employees, meaning that even if you are not a full-time worker, you have a right to workers' compensation in Pennsylvania. However, know that if you were hired as an independent contractor, but have been misclassified and instead act as more of a full-time employee, you may be able to receive workers' comp. 
The state you live in will ultimately determine what your workers' compensation benefits may cover. In general, most workers' comp will cover losses associated with:
Lost wages

Medical costs

Disability benefits
Your state's laws will dictate when you become eligible for workers' compensation and the value of your compensation. Be sure to discuss your rights with a workers' compensation attorney. 
I was injured in a Boscov's Warehouse. How can Munley Law Personal Injury Attorneys help me?
If you work in a warehouse like those of Boscovs Inc., Munley Law Personal Injury Attorneys can help you through this difficult time.
Our dedicated workers' compensation attorneys can guide you through the workers' comp process and:
Determine where and how the accident occurred at work.

Guide you through the workers' comp process if the injury results in permanent disability.

Ensure the claims process moves promptly, without compromising your benefits.

Help you petition a denied workers' comp claim.

Negotiate for a fair settlement.
Can I file a workers' comp claim without an attorney?
Technically, you can file a workers' comp claim petition without a lawyer. However, know that you run the risk of a total denial of benefits because if you fail to submit all required documentation or submit information incorrectly, your claim can be denied.
In addition, if your claim goes to court, you may need to have a better understanding of the legal nuances of workers' comp and personal injury law, which is vast. Because of this, it is recommended to enlist the services of a workers' comp lawyer. 
What Are My Rights If I'm Injured as a Boscov Warehouse Employee?
State laws differ, but you do have very fundamental employee rights that protect you following a workplace injury.
These workers' rights include:
Filing a workers' comp claim without retaliation

Appealing a denied claim

Receiving medical treatment

Receiving workers' comp benefits you qualify for

Utilizing legal representation of a workers' comp lawyer
If you were injured at a Boscov warehouse, or another warehouse, call  Munley Law Personal Injury Attorneys today.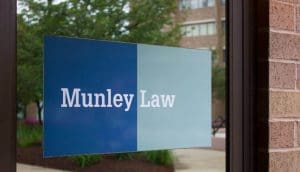 At Munley Law Personal Injury Attorneys, our compassionate workers' compensation attorneys are well-versed in warehouse and heavy machinery accidents. If you suffered minor or life-threatening injuries at a Boscov's warehouse that have resulted in time off, lost wages, and medical bills, a Munley Law Personal Injury Attorneys workers' comp lawyer can help you.
Our dedicated attorneys will review the facts of your case, guide you through the initial workers' comp filing process, or can help you petition the courts and your employer if your claim is denied. You must act quickly as states dictate the deadline you must oblige to notify your employer of the initial injury, and file a workers' compensation claim.
Know that Munley Law Personal Injury Attorneys works on a contingency fee basis so you will not be responsible for upfront costs, instead, we take a percentage of your settlement or verdict.
For a no-obligation, free consultation, contact the workers' compensation attorneys of Munley Law Personal Injury Attorneys today by calling 570-209-5514 or by contacting us online.
We can help with the following injuries as well
Injuries in Amazon Warehouse
Injuries in Fabri Kal Warehouse
Injuries in FEDEX Warehouse
Injuries in TJ Maxx Warehouse
Injuries in Cintas Warehouse
Injuries in Walmart Warehouse
Injuries in Core Mark Warehouse
Injuries in Frito Lay Warehouse
Injuries in Zulily Warehouse
Injuries in Home Depot Warehouse
Injuries in Adidas Warehouse
Injuries in True Value Warehouse
Injuries in Pepperidge Farm Warehouse
Injuries in QVC Warehouse
Injuries in Cardinal Glass Warehouse